October 10, 1996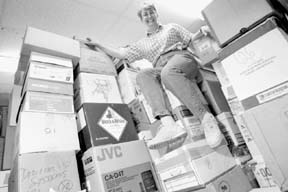 On top of the situation
With only a few weeks left, Mary Rogers and her crew of hardworking volunteers continue to unpack, sort and price the thousands of new and used books which will be on sale at McGill's annual Book Fair. Organized by the Women Associates and the Alumnae Society, the event raises money for scholarship and bursary funds. Shop for great book bargains at Redpath Hall on October 23 and 24, from 9 am to 9 pm.
---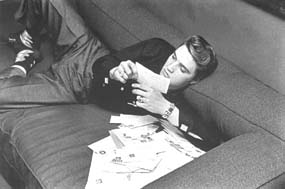 Rockabilly revisited
You don't hear much about rockabilly these days, but 40 years ago it changed the face of popular music forever. Led by Elvis Presley's curled lips, swivelling hips and the piano-thumping antics of Jerry Lee Lewis, a group of young white musicians from the American mid-South introduced the world to songs like "Blue Suede Shoes" and "Whole Lotta Shakin' Goin' On"--music that paved the way for contemporary rock and roll.

Go Cat Go!, a new book by McGill continuing education instructor Craig Morrison, documents the history of rockabilly--a form of music that pop legend Carl Perkins described as "a country man's song with a black man's rhythm."

"That's the key to rockabilly--the fact that it blended both white and black musical traditions," explains Morrison, a teaching award winner for his popular McGill courses on rock and roll history. Rockabilly's pioneers were "young white musicians who grew up with country music, but who really got turned on by the rhythm and blues they heard on black radio programs and in mostly black clubs."

Morrison savours rockabilly's "inspired energy." He did his master's thesis on the music, and his own band the Momentz (which recently played at Open House) performs some rockabilly classics.

Rockabilly's time in the sun was brief--Elvis and rockabilly's other leaders eventually gravitated to other forms of music. "It's such a small and narrow style, many performers find it wears out of possibilities quickly," says Morrison. Still, he's confident rockabilly won't ever disappear completely. Morrison notes there are plenty of fanzines and festivals devoted to the music and rockabilly is still regularly heard--even in countries like Japan and Finland. "All it needs is one big hit and it will explode all over again."
---
May I have this merengue?




Salsa music, which has its origins in Cuba, Latin America and Haiti, has caught on in Montreal in a big way, thanks in large part to a fairly recent infusion of new Montrealers of Haitian and Latin descent. Sheenagh Pietrobruno, a PhD candidate in communications, is interested in what happens when people from non-Latin or Haitian backgrounds take up salsa. "Most of the research on multiculturalism deals with how newcomers are changed by the dominant culture," explains Pietrobruno. "I'm interested in the reverse."

So Pietrobruno has been busy staking out the city's 10 salsa clubs and frequenting dancing schools where students learn to mambo and merengue. She says many salsa novices regard the music and its related dances "as highly sexualized." That can carry over into how Latin Americans and Haitians themselves are perceived.

"Salsa can be very sexual, but there's so much more to it than that," says Pietrobruno, noting that children take up salsa dancing in Latin America at an early age and that the dances are a routine way to express happiness.

Pietrobruno says that as salsa newcomers progress, they often acquire a more balanced view of salsa and of the cultures from which it originated.

She's noticed that stereotypes have influenced the goings-on in the dance classes in another way. "I've spotted more than a few Latin men--they keep hearing how they're supposed to be such wonderful dancers so they decided they better do something about it."