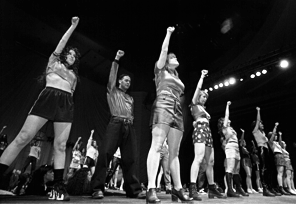 Model students
They sashayed down the runways confident that their cause was just and their duds were fab. A pair of recent fashion shows organized by McGill students raised thousands of dollars to support cancer research and to promote AIDS awareness. Students Hayley Baboushkin and Andrea Charon were the co-chairs for the Circle of Life fashion show (pictured) which took place Monday evening. The event drew over 1,000 and raised well over $30,000 for the Israeli Cancer Research Fund. Russian studies student Yana Mirkin and management undergraduate Dana Gornitzki were the codirectors of Übermode, a March 8 fashion show benefit. Over 2,000 attended and $30,000 was raised. All after-expenses earnings are earmarked for the Farha Foundation's AIDS programs.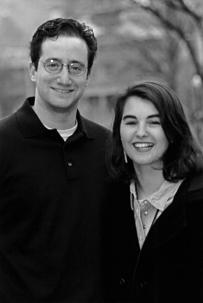 Northern Exposure
U.S. Senator Jesse Helms claims we ought to be ashamed of ourselves for trading with Cuba. American officials are taking us to a world trade tribunal over the laws we've created to protect Canadian magazines. And the Yanks are aggressively demanding greater access to the waterways off the B.C. coast.
Our relationship with our southern neighbour is more than a little creaky these days, but Americans Karen Eck and Scott Gallin like Canada just fine. In fact, they're using a prestigious scholarship for the express purpose of spending time in Canada to further their studies.
Eck and Gallin have Fulbright Scholarships. The Fulbright program was created more than 40 years ago to allow American students and faculty to spend time at universities in other countries and to support non-U.S. scholars who wanted to study or teach at American institutions. Fulbright alumni include authors Joseph Heller and John Updike, economist Milton Friedman and United Nations Secretary General Boutros Boutros Ghali.
Eck and Gallin are using their scholarships to pursue research at McGill. Eck, a doctoral candidate in psychology at Kent State, is studying bilingualism in adults. "I wanted to come to McGill because the psychology department here has a long history of doing groundbreaking research in this area. Wallace Lambert was the first to prove how bilingualism was beneficial for children. Also, I can't think of a better place than Montreal to find bilingual research subjects."
Gallin, a Washington native, is doing a master's degree in economics at McGill. A former peer counsellor for drug and alcohol education, he is looking at the impact of substance abuse in the workplace and the effectiveness of employee assistance programs in the U.S. and Canada--a research interest he shares with McGill economics professor Bart Hamilton.
"I was thinking of using the scholarship to study at either McGill or U of T," says Gallin. "Everyone kept telling me that Toronto was just like any other large North American city, but that Montreal had a real European flavour." Gallin cites another reason for choosing McGill, one well suited to an economics student. "McGill is a lot cheaper."
A pair of McGill students also earned Fulbrights. Caroline Tait, a PhD candidate, is at Harvard examining how the U.S. and Canada are dealing with new reproductive technologies, while Laura Barron, an American enrolled in McGill's flute performance doctoral program, is studying at the University of British Columbia.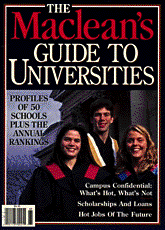 Universities by the book
Making the rounds of the country's radio stations and TV talk shows is Ann Dowsett Johnson, an assistant managing editor at Maclean's who's promoting an expanded version of the magazine's annual university rankings. "The book is intended to promote the experience of going to university," says Dowsett Johnson. "and to provide students and parents with a guide to ensure a good 'fit' when choosing a school."
Of course it can't hurt to lay a little groundwork for next fall's rankings. They run each year in an early November issue--always a colossal seller for Maclean's, with a print run four times greater than usual and advertisers clamouring for space.
Dowsett Johnson says she's had to spend some time being a cheerleader for higher education on this trip. "I've been on a lot of phone-in shows and the callers are asking 'Why go to university? It's expensive and graduates can't get jobs.' I tell them that it's still good value and going to university offers once-in-a-lifetime experience you won't find anywhere else."
What changes has Dowsett Johnson seen in the five years since Maclean's began its survey? "Universities have become much more open and are embracing change. Interesting and innovative things are happening across the country with this new wave of presidents," she says. "We're seeing people appointed at a time when change is part of the job description. As a result, the new presidents are much more entrepreneurial and collegial than their predecessors. Fresh air is blowing in. "
The future of universities like McGill is not under serious threat, although she does anticipate new ways of operating. "There will have to be rationalization of resources. A student will probably enrol in one university but if a program is closed there, he or she can go across the street to another institution where it is offered. That's why cities like Montreal with four big universities will be highly desirable. The university consortium that's being planned now in Halifax is amazing!"